Photographs as Inspiration for Watercolor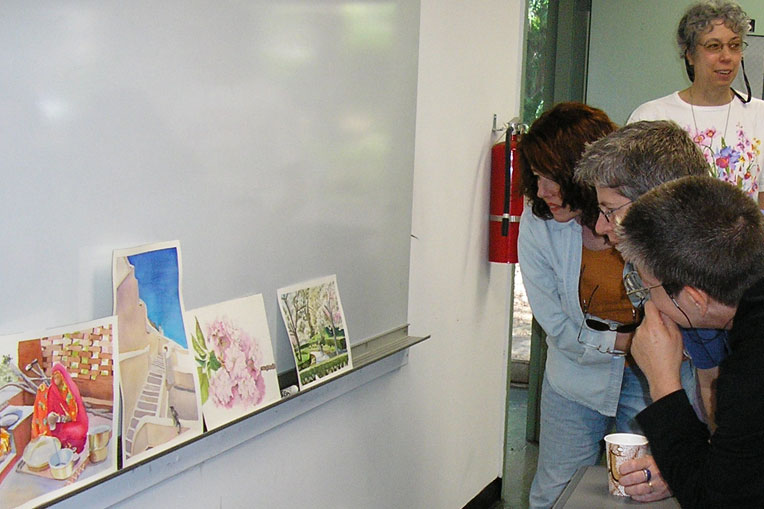 Class: Photographs as inspiration for Watercolor. Photo by Loretta Poole.
Discover new ways to solve visual problems by using photographs as your point of departure. We focus on specific watercolor techniques in each class to create paintings using provided photographs of flowers, landscapes, and architecture. Best for students familiar with watercolor.
Category:
ART
Dates:
February 23 - April 13, 2019 Check for other dates
Meets:
Sa from 10:00 AM to 1:00 PM
Instructor:
Loretta Poole
Member Fee:
$ 273.00
Nonmember Fee:
$ 300.00
Materials Charge:
$ 11.00
Notes:
6 Saturdays: February 23; March 2, 23, 30; April 6, 13. (No class March 9 and 16.)
Bring your own materials: Photographs as Insipiration for Watercolor Materials List
You must bring your printed confirmation to the Garden for admittance to each class session. Report to the security desk at the 1000 Washington Avenue entrance, and you will be directed to your classroom. Show your confirmation for free admission to the Garden before each class. For drivers, the parking lot is located at 900 Washington Avenue. Allow 5 to 10 minutes to walk from the parking lot to the Education building.
There are still openings remaining at this time.
A valid credit card will be required for payment. Please have your card information ready.
If you have questions about your online registration, please call us at 718-623-7220 or email registration@bbg.org