Natural Perfume Blending, Section-B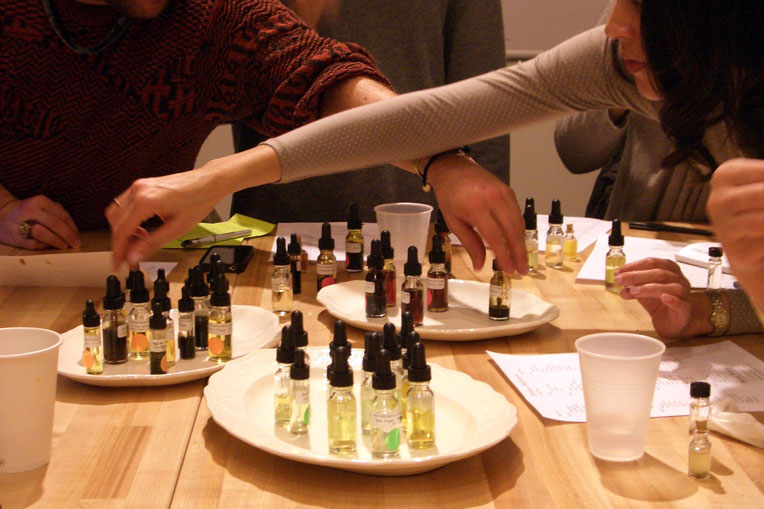 Class: Natural Perfume Blending. Photo by Julianne Zaleta.
Smell is the most neglected of our senses, yet it has the power to instantly penetrate our consciousness, evoking memories and emotion. Examine the art of natural perfumery. Gain a basic understanding of the sense of smell, the history of perfume, the advent of synthetic ingredients, and the return to naturals. Explore perfume ingredients and formulation, and leave with two bottles of your own bespoke perfume. Bring a notebook; all other materials will be provided.
| | |
| --- | --- |
| Category: | HHC |
| Dates: | February 24, 2018 Check for other dates |
| Meets: | Sa from 1:00 PM to 4:30 PM |
| Instructor: | Julianne Zaleta |
| Member Fee: | $ 59.00 |
| Nonmember Fee: | $ 65.00 |
| Materials Charge: | $ 60.00 |
| Notes: | Students should bring a notebook to class; all other materials will be provided. Please bring this confirmation for Garden admission. The Security Guard in the lobby of the Administration Bldg. at 1000 Washington Avenue will direct you to your classroom. |
Sorry, we are no longer accepting registrations for this course. Please contact our office to find out if it will be rescheduled, or if alternative classes are available.
If you have questions about your online registration, please call us at 718-623-7220 or email registration@bbg.org