Chinese Brush Painting - Section B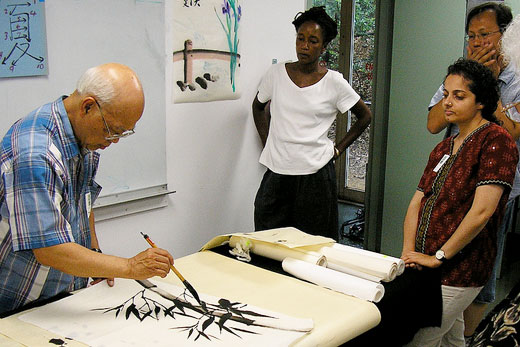 Class: Chinese Brush Painting. Photo by BBG Staff.
Learn to paint in the Chinese style using a bamboo brush, ink, and rice paper. Get step-by-step instruction in this ancient art form, and develop your own style. Look to the lovely environment of the Garden for creative inspiration. Students purchase their own materials.
Category:
ART
Dates:
November 3 - December 15, 2018 Check for other dates
Meets:
Sa from 2:30 PM to 5:30 PM
Instructor:
Kwok Kay Choey
Member Fee:
$ 174.00
Nonmember Fee:
$ 191.00
Notes:
4 Saturdays: November 3, 17; December 8, 15. (No class November 10, November 24, or December 1.)
Bring your own materials; materials list link: Chinese Brush Painting
Please bring this confirmation for Garden admission. The Security Guard in the lobby of the Administration Bldg. at 1000 Washington Avenue will direct you to your classroom.
There are still openings remaining at this time.
A valid credit card will be required for payment. Please have your card information ready.
If you have questions about your online registration, please call us at 718-623-7220 or email registration@bbg.org